'Here We Are: Notes for Planet Earth' Blog
Here We Are: Notes for Planet Earth by Oliver Jeffers
#CLPEWordsForTheWorld
WELCOME BACK to Underwood West Academy! We have chosen to join with lots of schools across the country to offer the children an exciting start to the year! The CLPE (Centre for Literacy in Primary Education) has been working very hard with one of our favourite authors - Oliver Jeffers - to create some wonderful learning all around one of his brilliant books.
As a school, we will all be getting involved in the exciting learning opportunities. We want to encourage and build on the sense of community across the entire school, to reflect on the last few months, and also help all our pupils look forward to the future in a positive way!
The CLPE have chosen this book because it provides a powerful vehicle for children to reflect on and make sense of the world we are all living in. The words and pictures work together to help children to understand their place in the world and to move forward together in a
positive and constructive way. This heartfelt and thought-provoking book from Oliver Jeffers is dedicated to his son, Harland and was
written in the first two months of Harland's life. It was inspired by Oliver's desire to make sense of the world for his son, but is also a gift to all children at this time, helping them to make sense of their world and their role in it.
In celebration of Earth Day - the book has also been brought to life as a short film, click the link to find out more -https://tv.apple.com/movie/umc.cmc.1j55m7c1krge4yhia6x4u5o48at=1010lGbf&ct=atvp_hereweare_gen_gen&itscg=80103&itsct=atvp_hereweare_gen_gen
Watch the trailer below for a sneak peak inside!
Over the next couple of weeks, we would like to connect with you and others by sharing our work with you. So please keep coming back here to see what we have been up to in school! Teachers and children will be adding work, comments and personal views here to keep you up date on the fun we're having now we are back at school!
This week in Year 6
We have begun our term by studying the book 'Here We Are' by Oliver Jeffers which has provided us with great fun learning about our planet and the many amazing creatures which also call it home. We have been focusing not only on our land and seas but also space. Class 6J have had really been fascinated by the northern lights and how our moon in fact controls our tides.
Monday
On Monday we began to read our book and paid particular attention to the night sky. The book has excellent illustrations and it provided an excellent stimulus for our poetry. We listened to a poem called 'Cosmic Disco' by Grace Nichols which used a variety of grammatical devices to create an atmospheric poem. We in turn wrote our own poems about space.
Tuesday
On Tuesday we took time to reflect about those people and pets that are dear to us. We discussed the importance of having strong relationships and how these may have evolved over a challenging time. The book offered us the opportunity to contemplate the special relationships in our life and how these shape and influence who we are and our sense of place in the world. As a result of this, we wrote letters to those special people.
Wednesday
During lockdown, environmentalists observed positive changes in the patterns of behaviour of wildlife and clearer skies amongst other things. We were able to reflect on this unanticipated silver lining and we considered our collective roles in building on such gains. We discussed the issues we are facing as a race and what we can do in order to eliminate these threats.
Thursday
For young people in their formative years to have experienced such a collectively life changing experience on a global scale in a very intense time frame will have been worrying, anxiety inducing and in some cases traumatic. We have all had thoughts and questions about the world around us and will need to reconfigure how we feel about the world and our place in it. There is much to be inspired by and in awe of in terms of the many wonders of the world and we must do our upmost to protect them. During this session, we built on our prior knowledge from yesterday's session to create our own documentary to address these issues.
Friday
We have all been bombarded with a large volume of information, a lot of which will have been anxiety inducing and overwhelming during this exceptional period. We have provided the opportunity to give us time and space to pause, take stock and practise mindfulness to support them in building their resilience moving forward. We have been inspired by Phillip Gross' poem 'Night Walker' to write our own poems called 'Day Walker'.
What our children have to say
'Love this topic and thinking about the world around us'
'I want to learn more about Oliver Jeffers'
'I have really enjoyed writing some poetry'
'I have enjoyed 'Here We Are' as it teaches us about the differences on our planet'
'My favourite part was learning about the ocean and it's mysteries'
'This is one of my favourite books. I love learning about our planet and space.'
'I love the drawings in this book!'
Some of our fantastic work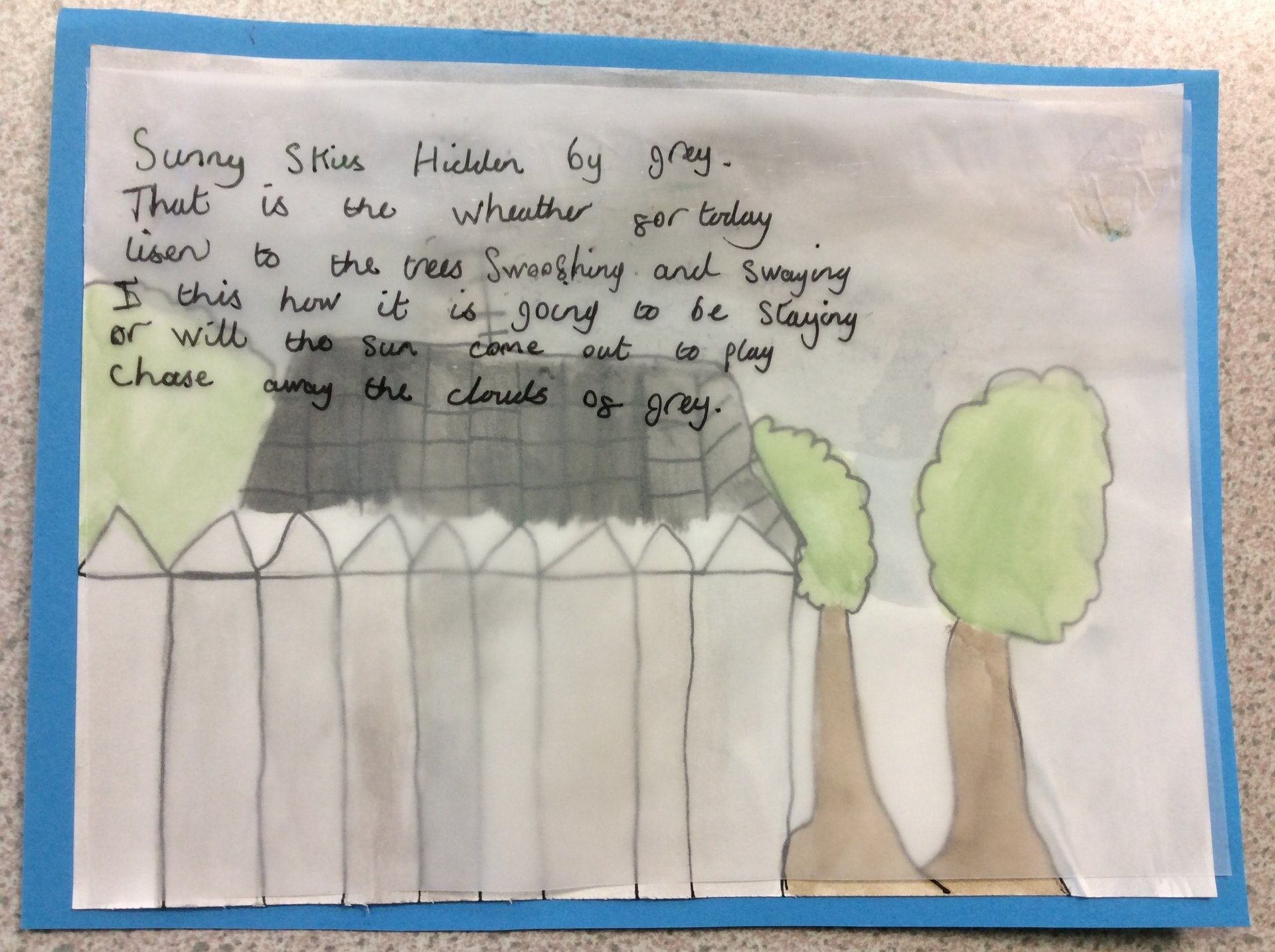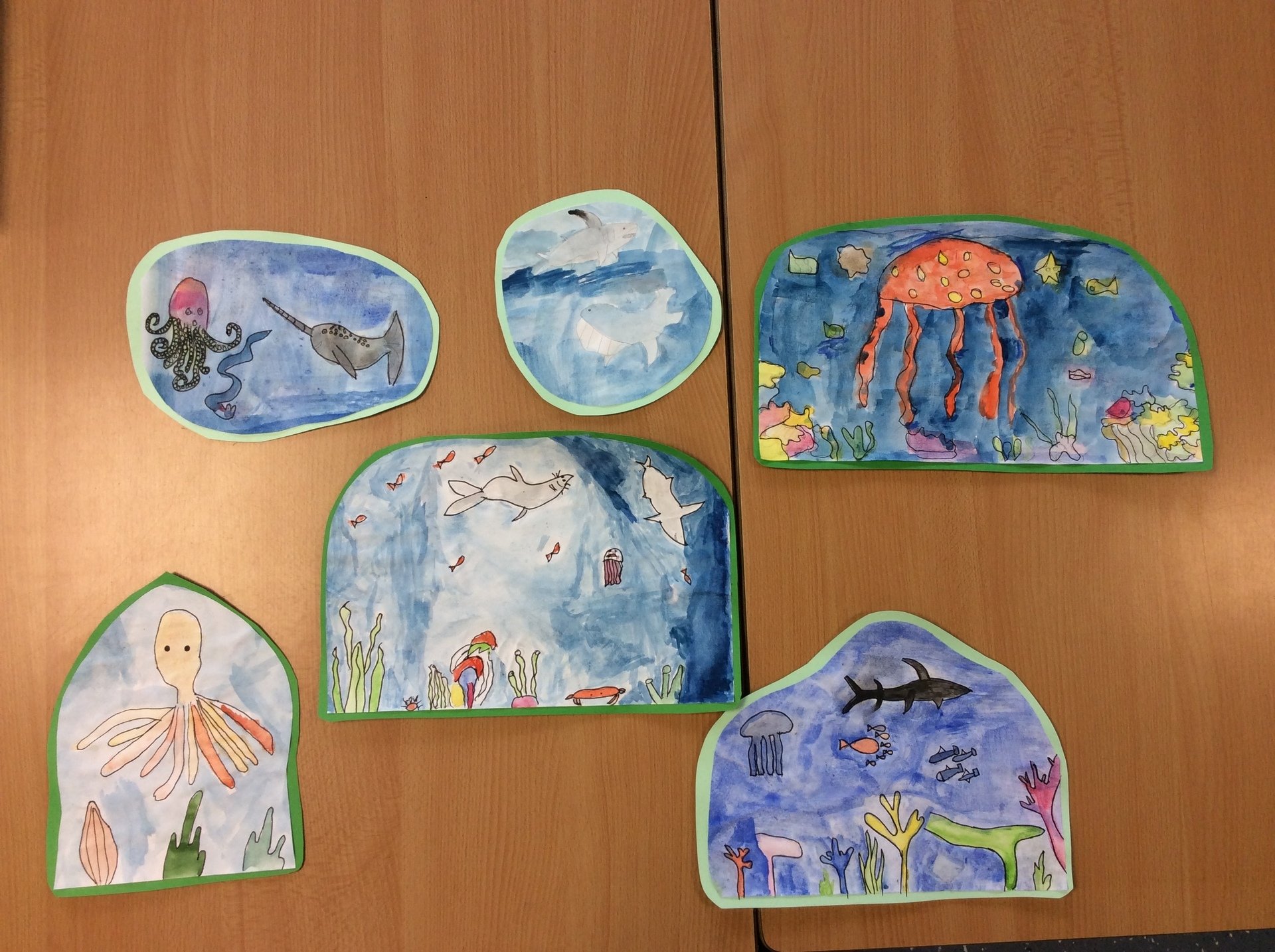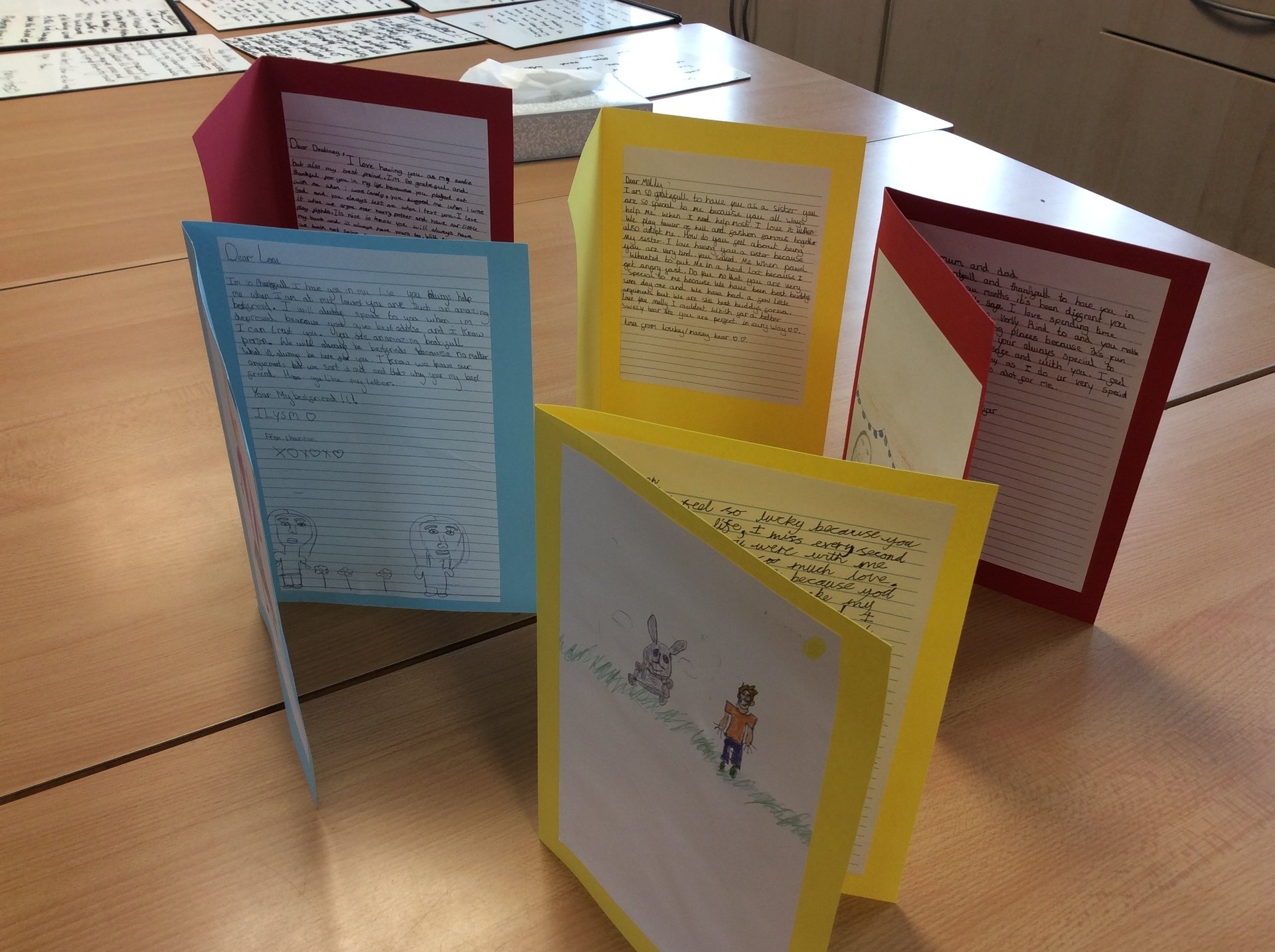 Year 4 Monday 7th September 2020
We started the day by exploring the changes that have happened in school since Lockdown. We have discussed how we feel about being back at school. We agreed that it was lovely to see our friends and teachers again, but we miss having a lie in and being free to snack and go to the toilet whenever we want to. Some of us are also missing family members and pets, as we have enjoyed spending a lot more time with them.
After break we began to explore the start of Here we are, looking in detail at the inside front cover and examining the choice of details in it. We brainstormed what it would be like to be there and who we might want to take on the boat with us.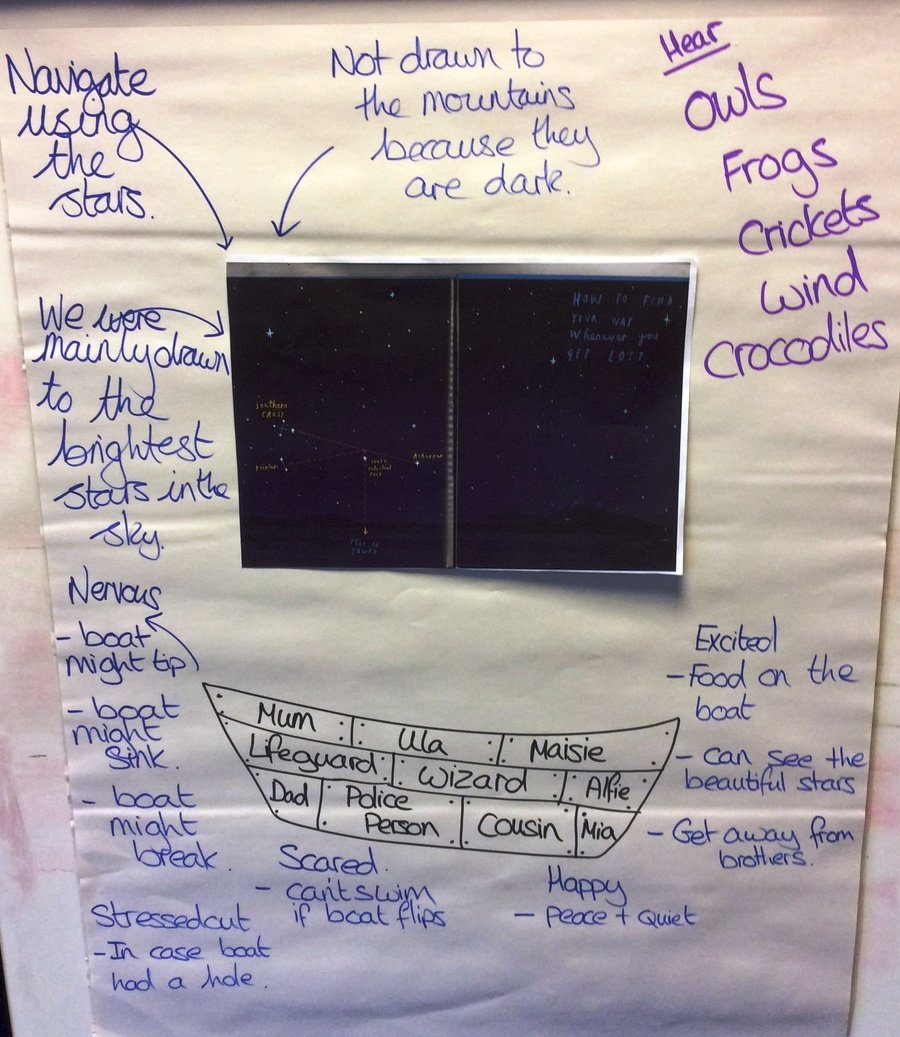 Year 3 – Monday 7th September
Today we started our day by looking at the title of our new book – HERE WE ARE – We made lots of predictions about what we thought the story might be about and wrote questions we want to find out.
Lydiah said "It might be about what we live on because Earth is the picture on the cover."
"I think his dad is going to show him around the world." Mariah mentioned after discussing the book was written by Oliver Jeffers for his baby son.
Mauriso said "I think it will be sad to start with but it will have a happy ending."
Harry asked "Is it going to be about space?"
Gracie wanted to know what the little yellow blobs were on the Earth.
"Why is there a smiley face on the Earth?" Amelia questioned.
We also spent lots of time talking about our time at home over lock down and how it made us feel. Here were some of the things the children said:
I was sad I couldn't go to school to learn.
I was sad at first because I couldn't see my friends, then I was excited when I found out I was coming back to school.
I liked being at home, my mum got lots of whiteboards and tried to show me maths.
It was nice to spend time with my family.
We spent the afternoon exploring google earth and travelling to different places. We discovered how large the world really is and how different all the places are. We then thought about our favourite place and draw lovely pictures of them. We read lots of different poems and used these and our pictures to inspire our own poems :)
Year 2 Monday 7th September.
Today we began our learning using the book "Here we Are "by Oliver Jeffers.We looked at the front cover and chatted about what we could see.
Marnie Rose carefully noticed "there are some rockets zooming around it with lines!"
Harley thought "I think the book will be about gravity"
Charlie wondered "Will it be about some aliens and it will have a bad ending?"
Marnie and Alfie asked, "Is that a face on the earth, it looks like it is smiling?"
After that we used google earth to zoom in from outer space towards our school! We loved it so much, so we paused to look more closely at the polar regions
and Layla noticed "the white stuff, is it snow or clouds?" We were able to find oceans and land and then we searched for Madagascar and China! We drew
some pictures of the things we could see on earth and labelled them.
As we flew in closer to our school, we noticed the houses, streets and Queen's Park. We thought about how we had missed school and visits to the park and
how we were all so happy to be back with our friends again!
Year 5 Monday
We looked at the book today and talked about our feelings of coming back to school. There was a lot of nerves, so happy, some sad feelings. We discussed that all of these were OK.
We thought about our favourite place to be and created a poem.
Year 5 Tuesday
It has been another fun filled day of looking deeper into 'Here We Are' and have really enjoyed seeing so many different things happening in the book.
Today we thought about our favourite place and drafted ideas for a poem based around where we like to go. We also continued thinking about our feelings being back at school and thought carefully about our hopes and wishes for the future. Some of these comments included:
"I can have a holiday at Christmas."
"That Covid goes away soon."
"To not have to wear masks everywhere and socially distance everywhere."
"I hope that racism stops - don't judge a book by its cover."
Year 5 Wednesday
Today we looked at the solar system and thought about mnemonics to help us to remember the order of the planets.
A member of the class said, "Look Mrs Hardwick, the last letters of the order of the last 3 planets make up the word sun."
Year 2 Tuesday 8th September.
Today we began writing a guide about earth for someone who had never been to earth before. We brainstormed lots of ideas together and decided we would
write about where earth was in the solar system, as well as writing about the land and the seas. We enjoyed drawing pictures of the planets and finding some
facts out about the planets too.
Have a look at the photos of our work, we are really proud of them!
Tuesday 8th September Year 4
Today Year 4 have been learning about Floella Benjemin and her life. We learnt that she travelled to England from Trinidad and with her family faced racism and prejudice. However, she showed great resilience and strength and overcame this to become a successful actress, author and politician.
The children then painted portraits of Floella before painting their own portraits, which will be displayed in a 'Gallery of Greatness.'
Year 2 Wednesday 9th September.
Today we began learning a new song. As we have been thinking about how beautiful the world is through reading our book 'Here We Are', we decided to learn the song what a wonderful world by Louis Armstrong. We listened to his version and watched his performance and then we adapted the words to make our own version.
Click on the link to listen to Louis Armstrong singing his song.
https://www.youtube.com/watch?v=CWzrABouyeE
Do you like our version of the song?
What a Wonderful World by Year 2
I see tigers orange and crocodiles green,
Dogs in the day and cats at night,
And I think to myself, what a wonderful world.
I see oceans blue, bumpy hills,
Fields of grass, seas and sky
And I think to myself, what a wonderful world
The snowflakes slowly twirling, the thunder is so loud
The sunshine in the daytime, the soft moonlight at night,
I see people chatting, saying hello friend
Doves above the land and whales below
Wednesday 9th September Year 4
Today we thought about how unique we all are and what makes us different form each other. We agreed that the world would be a boring place if all of us looked the same and liked the same things. We learnt all about some famous people including Marie Curie, Stephen Hawking, Floella Benjamin and Malala Yousafzai. We realised that when they were 8 years old they were just like us and had gone on to do AMAZING things. We then discussed what we would like to be famous for.
Year 4 are hugely ambitious, some examples of what they would like to be famous for are:
Being a world class vet
Being an actress on the stage
Playing football for Tottenham Hotspur
Playing football for Manchester City
Being a singer
Being a Youtuber
We hope they continue to work hard and reach their goals.
Year 5 Thursday
Today we have been looking at the natural world and our appreciation of everything that makes up planet Earth. We have been using the iPads to research some fascinating facts about our favourite animals. These have included giraffes, wolves, rats and sharks to name but a few. We have discussed how good it is that we all like different animals because we are all different in what we think looks interesting or beautiful. We have started a discussion about how we can all help looking after our planet.
Thursday 10th September Year 4
Today we have been thinking about special relationships we have with our family, friends and pets. We discussed:
What makes them special to you?

Why do you like spending time with them?

What do you enjoy doing with this person?

How do you think they feel about you? How do you know?
After discussion the children painted pictures of their favourite person or pet. Next the children wrote a letter to their special person/pet explaining to them why they are so special.
The children wrote some lovely letters explaining why people are so special to them.
Year 3 - Thursday 10th September
Today we have been deepening our appreciation of the natural world, paying specific attention to the worlds oceans. We watched a short video that was made up of clips of different animals from all around the world and beautiful places that they live. The video was to the song 'What a Wonderful World' and it was spoken rather than sung by David Attenborough.
Lilly said 'It reminds me that we are responsible for the world.'
Elif and Logan both agreed that the meerkats were the cutest. Whereas Skye and Alzbeta were big fans of the polar bears.
Connor described the words of the song as 'smooth' and said they made him feel 'relaxed'.
Samuel lead the class in declaring how lucky we are to live in such a 'wonderful world'.
As a class we discussed what we knew about the oceans and shared lots of great information with each other. We then thought about things we didn't know, but would love to explore further. We came up with questions like:
How many pints of water are in the worlds oceans?
Where does the ocean end?
How can we get rid of all the plastic?
What is in the deepest depths of the ocean?
Mikey wondered whether or not the megalodon shark could still be lurking deep below. We hope not!
Thursday 10th September
Today we continued to think about the different ways that our World is wonderful. We thought of lots of different adjectives we could use to describe the different features such as the beautiful, colourful flowers and the deep, blue sea. We then used watercolours to create pictures to match the lyrics of the song.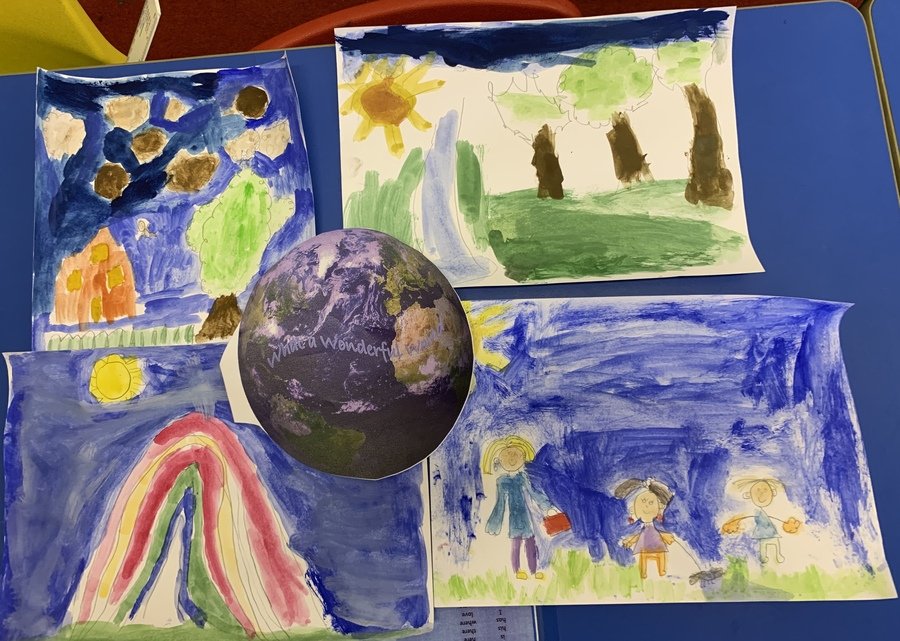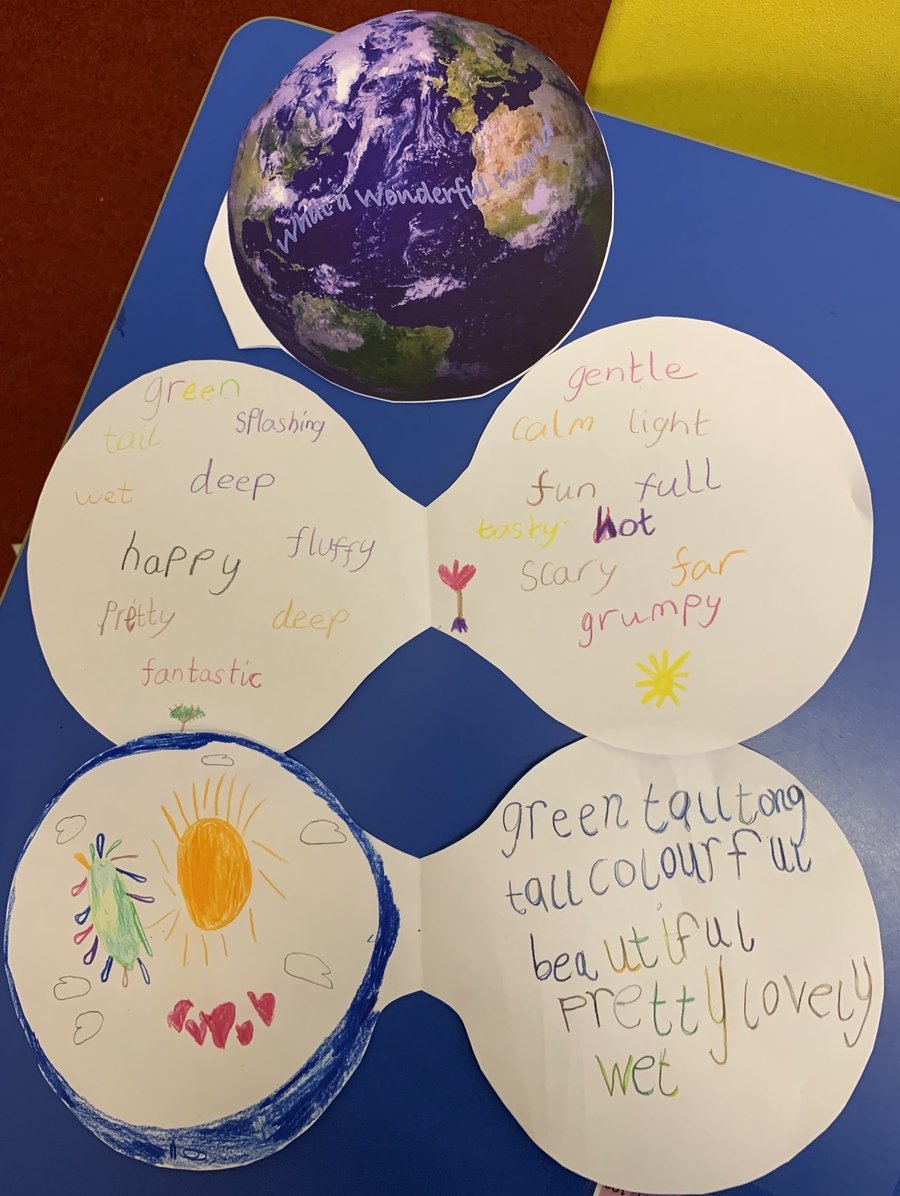 Year 5 Friday
Today we have enjoyed creating our Gallery of Greatness. We chose people who inspired us and wrote about why we felt they were Great!
Year 2 Friday 11th September
Today we continued to enjoy reading the story, we are having great fun finding out about the differnt types of animals that can be found living in diffrent parts of the world. We also tried to name as many parts of our bodies as we could, somebody actually managed to name 31 different parts!! We talked about how we need to take care of ourselves and make sure that we have have plenty of exercise, eat healthy food and also get a good nights sleep.
Friday 11th September 2020 Year 4
Year 4 ended the week by looking at the poem New Moon
New Moon
Moon is
silver silver.
Moon is
clipped cup
from which to sip
a first drop
of freshly-pressed
moon juice.
Moon is
somersaulting C
in the best moon font.
Moon is fickle flickerer.
Moon is
new lunar lantern
to track a star or two.
But mostly,
moon is
shy to meet
once more
that
old old
sky.
We discussed how the sky looked and made us feel during the day and night. We then used these feelings and descriptions to develop our own poems about the night sky using similes, alliteration and a range of adjectives, presenting them on the shape of a moon.
Tuesday 15th September- Year 3
Today we used Oliver Jeffers illustrations of all the people in the world to inspire our own portraits. We discussed what people had in common and what differences people had.
The children decided everyone had a body to keep healthy but we all looked different and had different talents. We then thought about our own talents! Some children said they were talented at football, art, singing, dancing, caring for others and lots lots more!


We then used #drawwithRob to help us with our own drawings.
Visit his website to draw lots of other fun things! http://www.robbiddulph.com/draw-with-rob
Thursday 18th September - Year 3
Today we looked at 'Here We Are' and spent time discussing people, what makes us the same and what makes us different. We compared interests, likes, dislikes,etc.
We then created visual representations of our brains, using drawings to represent all of our thoughts. This included things we are fond of, curiosities, things that worry us, things that scare us, things that excite us and things that motivate us.
Year 6 Thursday 17th September
Today we have thought about our future. We looked at famous people from history and how they have changed the world for us all today. It is exciting to think that we could help change the world in the future! Our favourite famous people were Rosa Parks, Bill Gates and Nelson Mandela.
Year 6 Friday 18th September
We have looked at space and our solar system. Class 6J were particulary interested in the Northern Lights which provided inspiration for an art project.
We also looked at the differences between day and night and the creatures which are nocturnal. We wrote a setting description which focused on a snowy winter setting.
We have also looked at inspirational characters who have influenced life on our planet. Class 6J were particularly impressed with David Attenborough and Winston Churchill.