Ready Steady Cook!
Ready Steady Cook!
12 February 2018 (by admin)
The children enjoyed taking part in a live cooking show.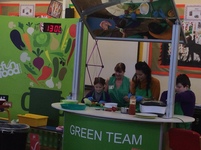 Children and staff took part in the live cooking show. The audience then voted for their favourite cook, the red kitchen or the green kitchen. Mrs Thompson' vegetarian burgers were very popular. The children who tried them said they were delicious!