Calling All Parents-
As we prepare for our up and coming SATs next week can you please ensure that your children are looking over the revision material that has been given to them and if they have any worries or concerns to discuss them with their class teacher.
Can you please make sure that your child is well rested and that they have had a good nights sleep.
Week beginning 14.5.2018 we will be providing breakfast for all our Year 6 children in the Pacific Hall from 8 o'clock onwards Monday to Thursday.
Everyone is Welcome.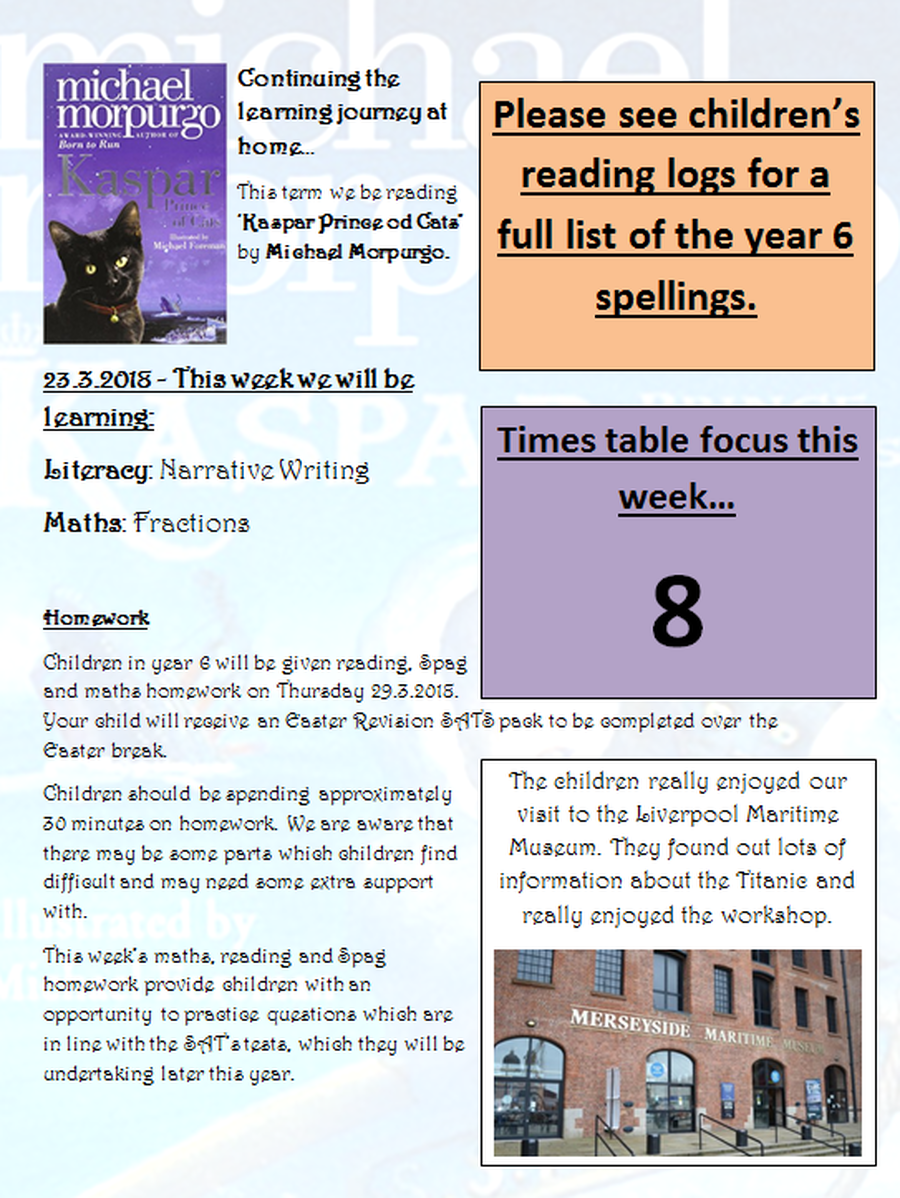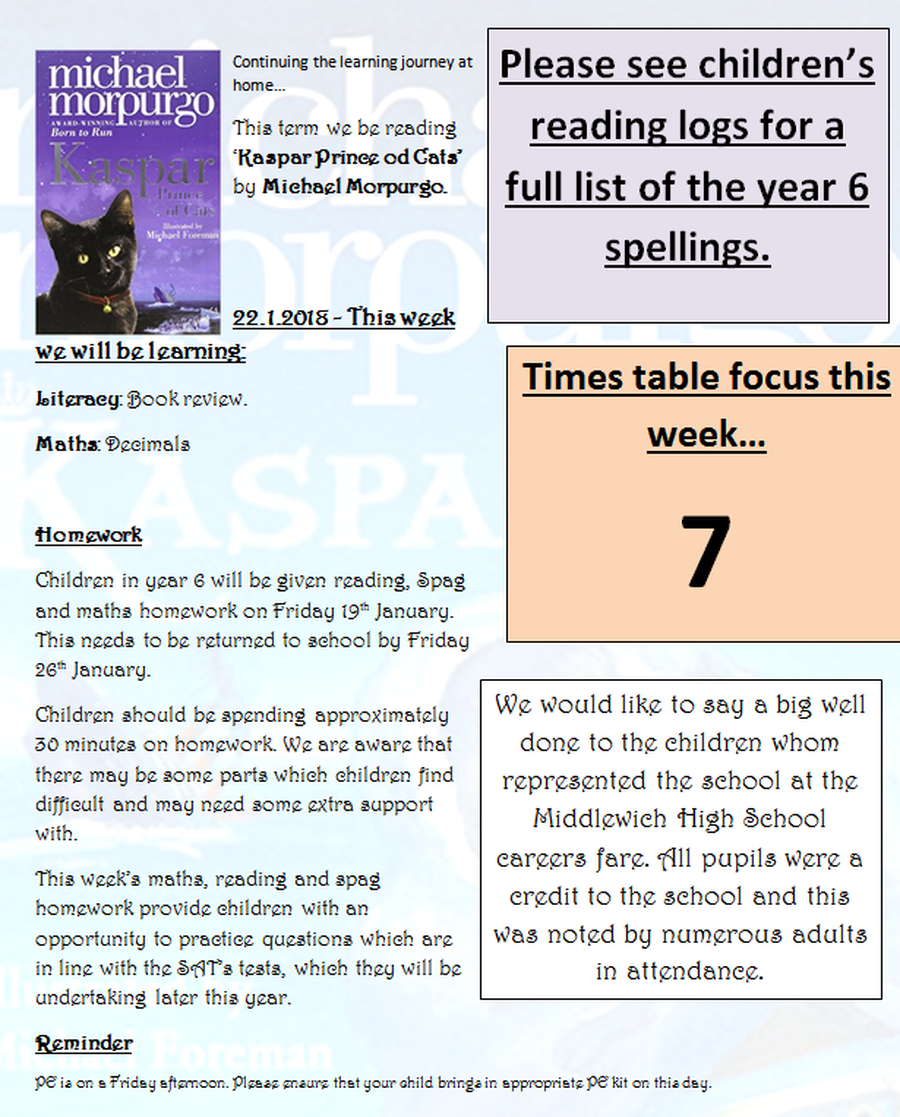 Year 6 had a fantastic time at the Careers day at Middlewich High School.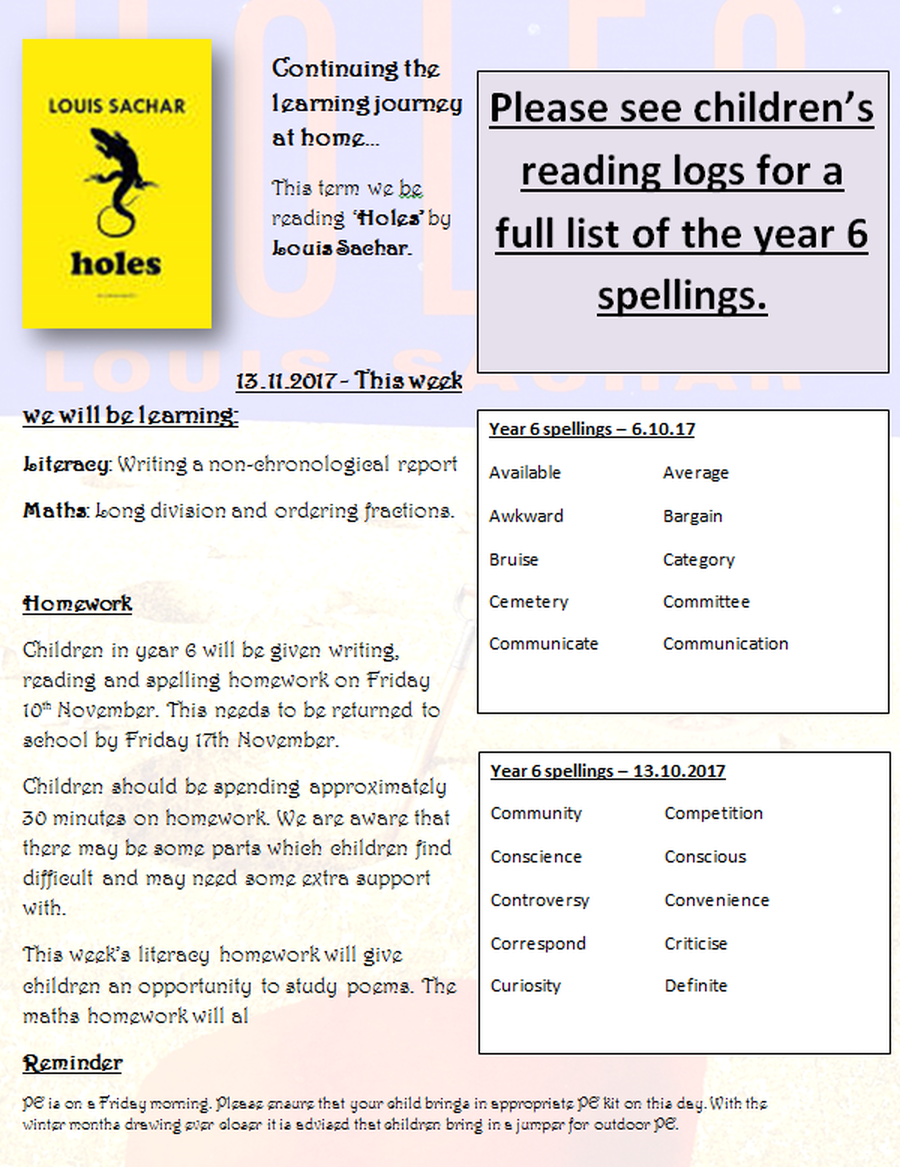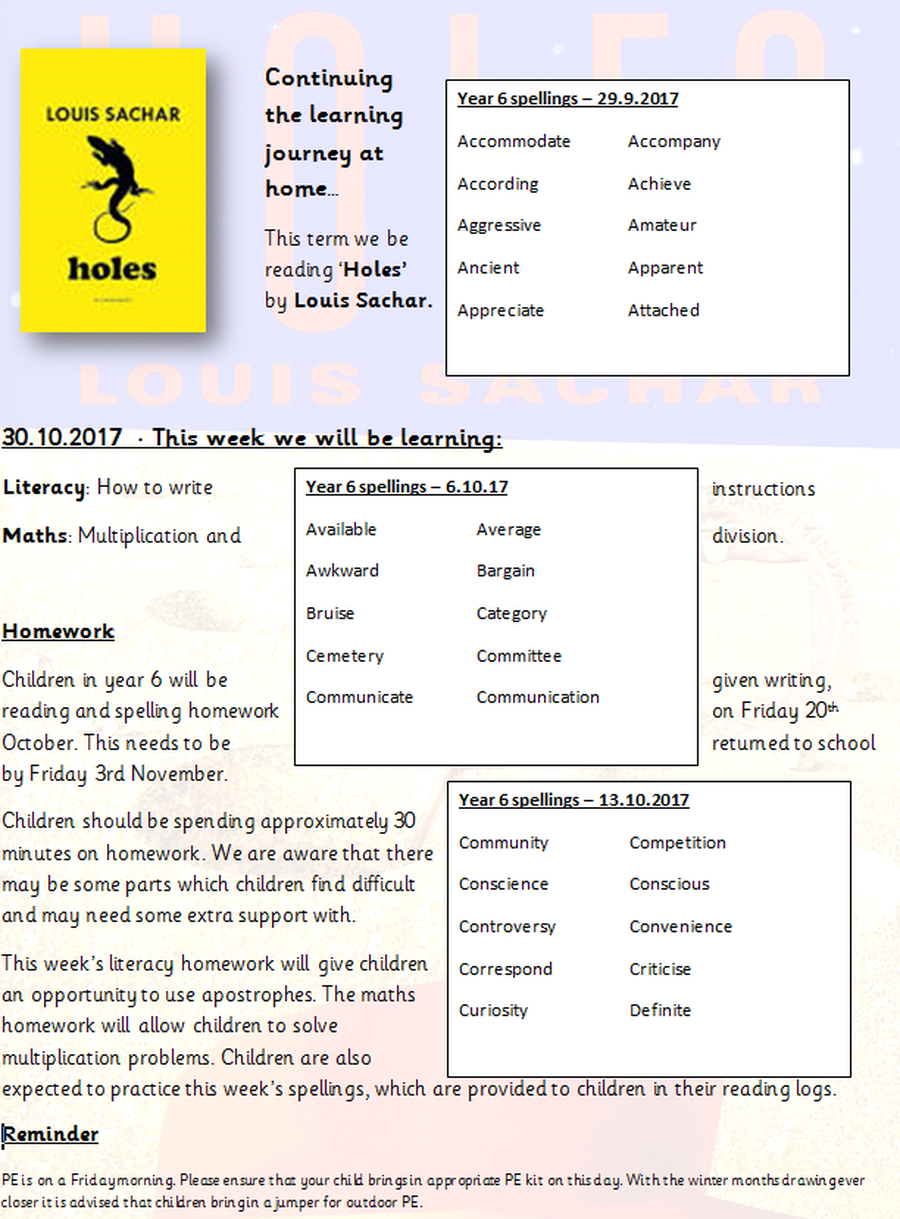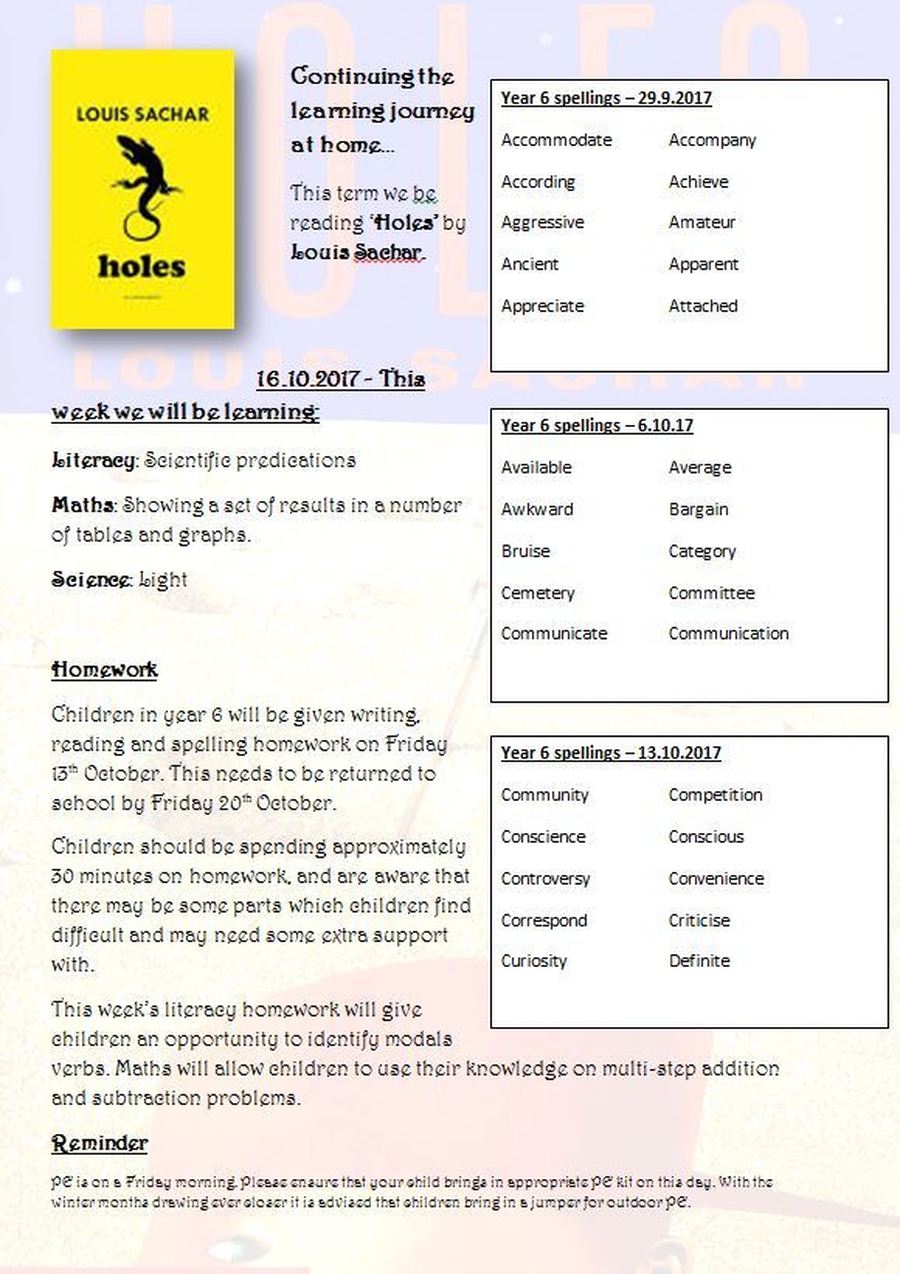 Welcome back!!!
Welcome to Year 6! We are looking forward to working with your children in what is a busy and exciting year.
Within in our Year 6 team we have Mr Jones, Mrs Hardwick, Mrs Stockton, Ms Clare and Miss Gough.
In year 6 we provide children with an opportunity to undertake daily maths booster sessions. These sessions commence in the ICT suite on Monday 18th September at 8:30am and run every Monday to Thursday. Mrs Stockton will run these sessions and they aim to provide extra support to pupils in the area of maths which is being covered throughout that week.
The year 6 doors open at 8:50am for children to start Early Doors activities and will close at 9:05am. If your child arrives after this time, they will need to sign in at the main entrance of the school. Please do not send your child to the classroom door after this time (especially alone) as children will be required to sign in at the office. At the end of the school day (3.15pm), children will come out of the year 6 area door. As the children are older, we trust them to walk to you sensibly (or walk home if you wish them to do so). If you wish to pick your child up from the door rather than have them walk to you, please let your child's teacher know and we will make sure they stay with us.
The Curriculum
In the first term, up until Christmas, the children will be basing their learning around the book 'Holes' by Louis Sachar. They will be learning about life in the USA and its geographical features. In maths the children will be learning how to use more efficient written methods to add, subtract, divide and multiply. In Literacy the children will be learning how to write longer sentences to help improve their writing and many aspects of non –fiction writing. Your children are expected to know their times tables, and we would encourage you to help your child learn them any way they feel easiest.
Homework
Homework is an essential part of a child's development and provides children with an opportunity to utilise the skills they have learnt independently, at home. Throughout the year children will be given homework on a Friday and it will be expected that this is returned, completed, by the following Thursday.
Children will be expected to read their home reading books to an adult at least 3 times a week and a note of this should be written in their reading record. There will be special rewards for children who bring their reading record in everyday and show evidence of reading every night. Only 1 read per day will be counted towards the reading star certificates in class. This is to encourage children to sit and enjoy what they read at home.
Spelling is an imperative part of the National Curriculum which is now tested during the KS2 SATs. Children will be given spellings to practice on a Monday and will then be assessed on these words on the following Thursday.
PE will take place on a Friday morning. Children will need to wear full PE kit during the lesson (coloured top, black shorts and appropriate shoes). The children will also have Computing on a Friday, taught by Mrs Goodwin.
Mobile phones
We understand that the children might need to bring in mobile phones for safety reasons, and we realise that they are expensive items, so we expect the children to hand them in to their teacher at the start of the day so that they can be locked away and then returned at the end of the day. Mobile phones bought into school are the children's own responsibility.
Please regularly check our Year 6 area on the website as we will be constantly updating our page with an overview of what we are covering throughout the term, weekly spellings and any other information which may be of note.
Please don't hesitate to contact us if you have any questions or concerns throughout the year. If you do have questions at all, please arrange to meet with us at the end of the day or by telephoning the school office.
Yours Sincerely
The Year 6 team