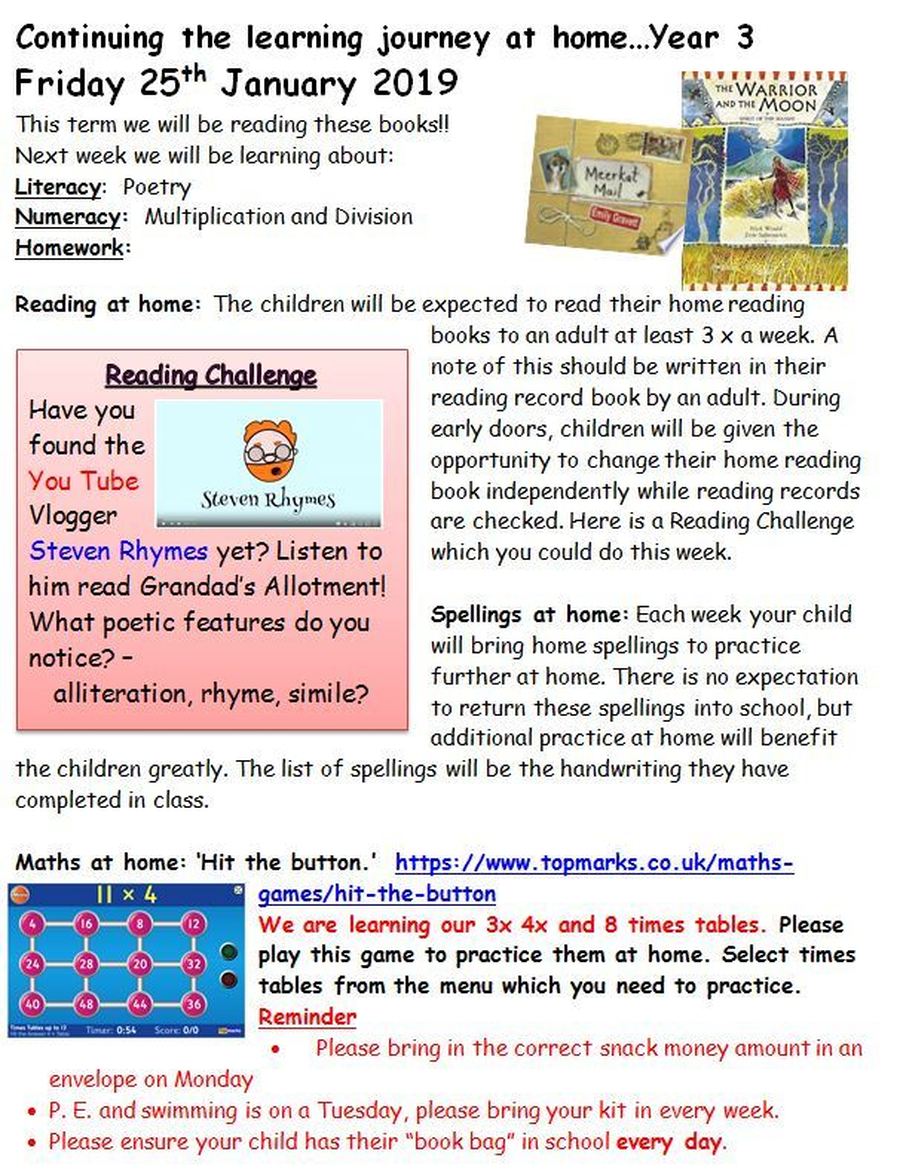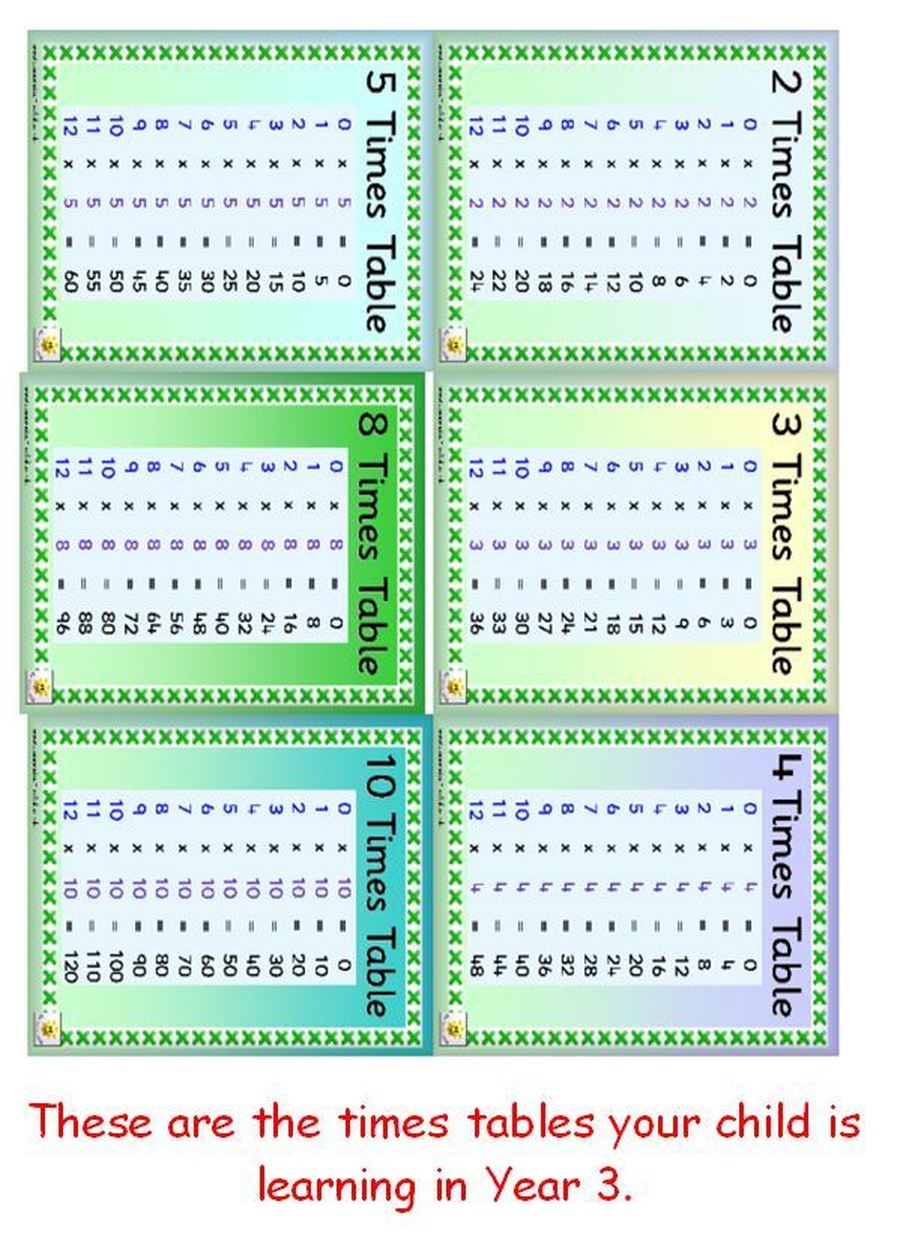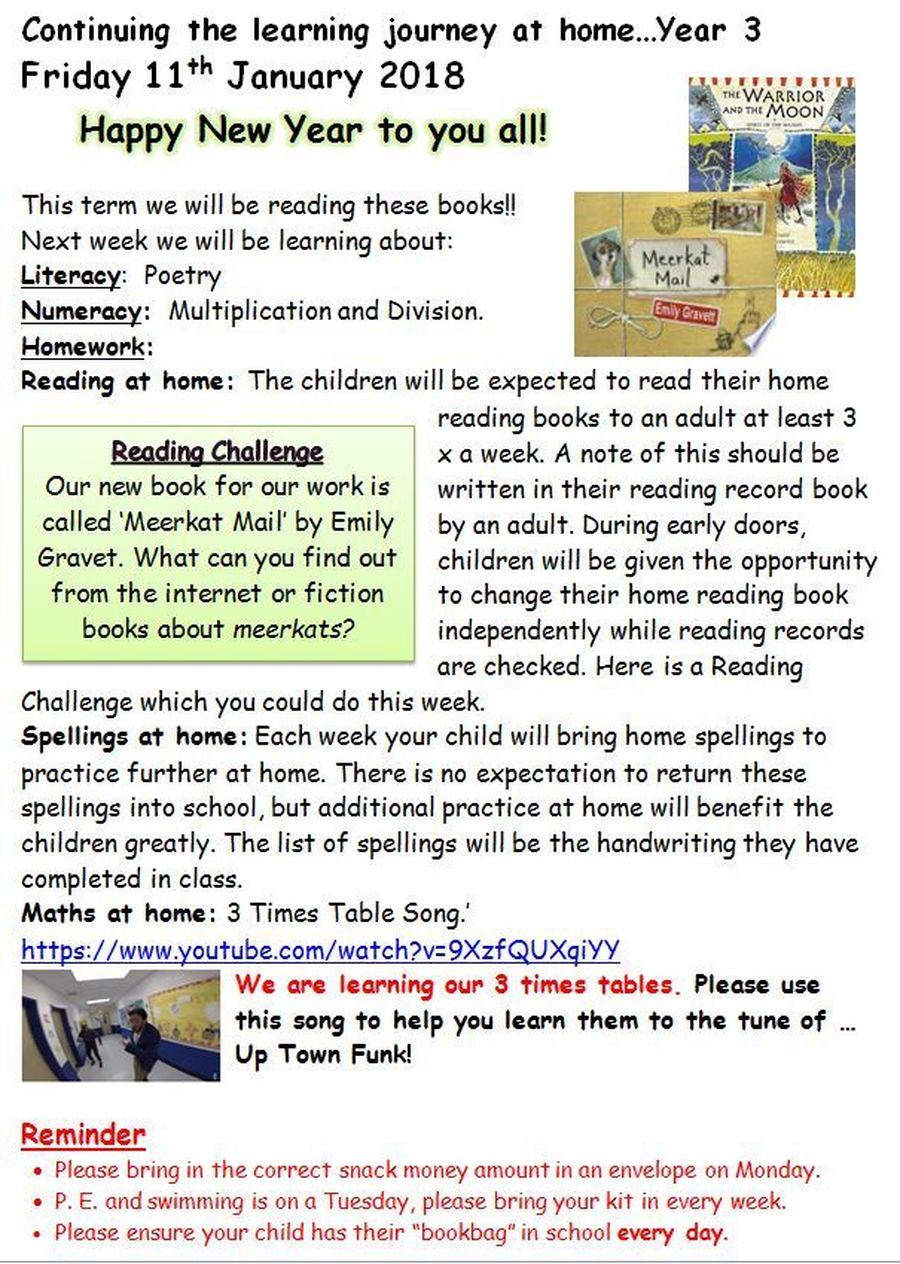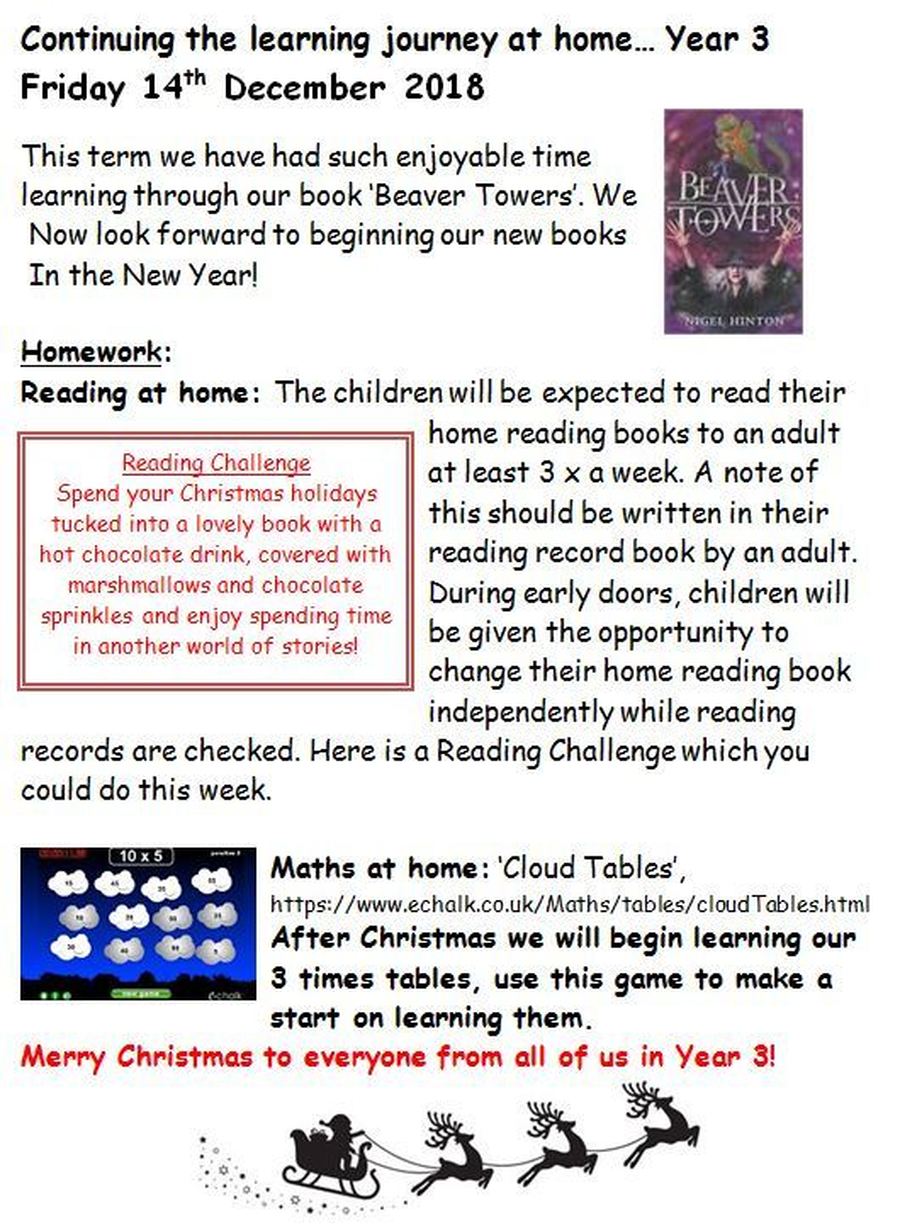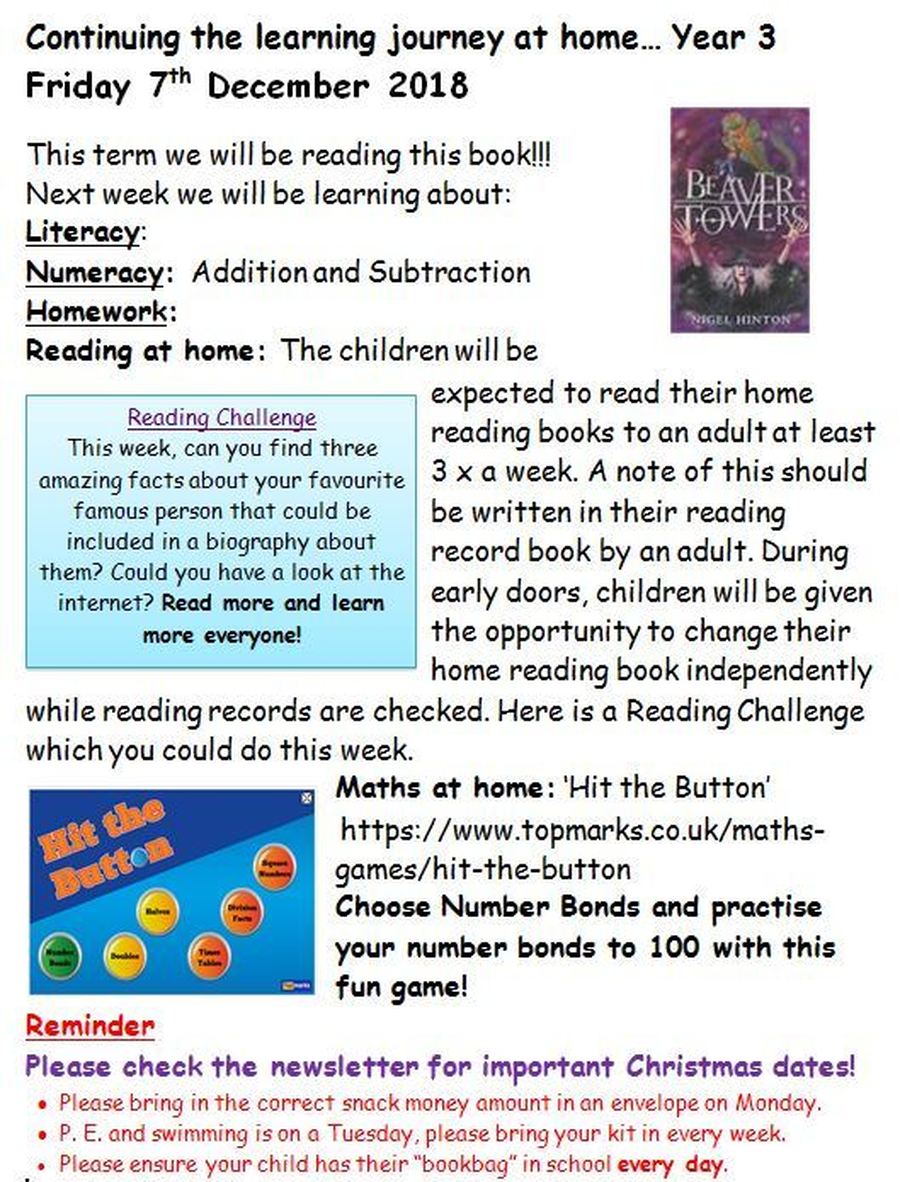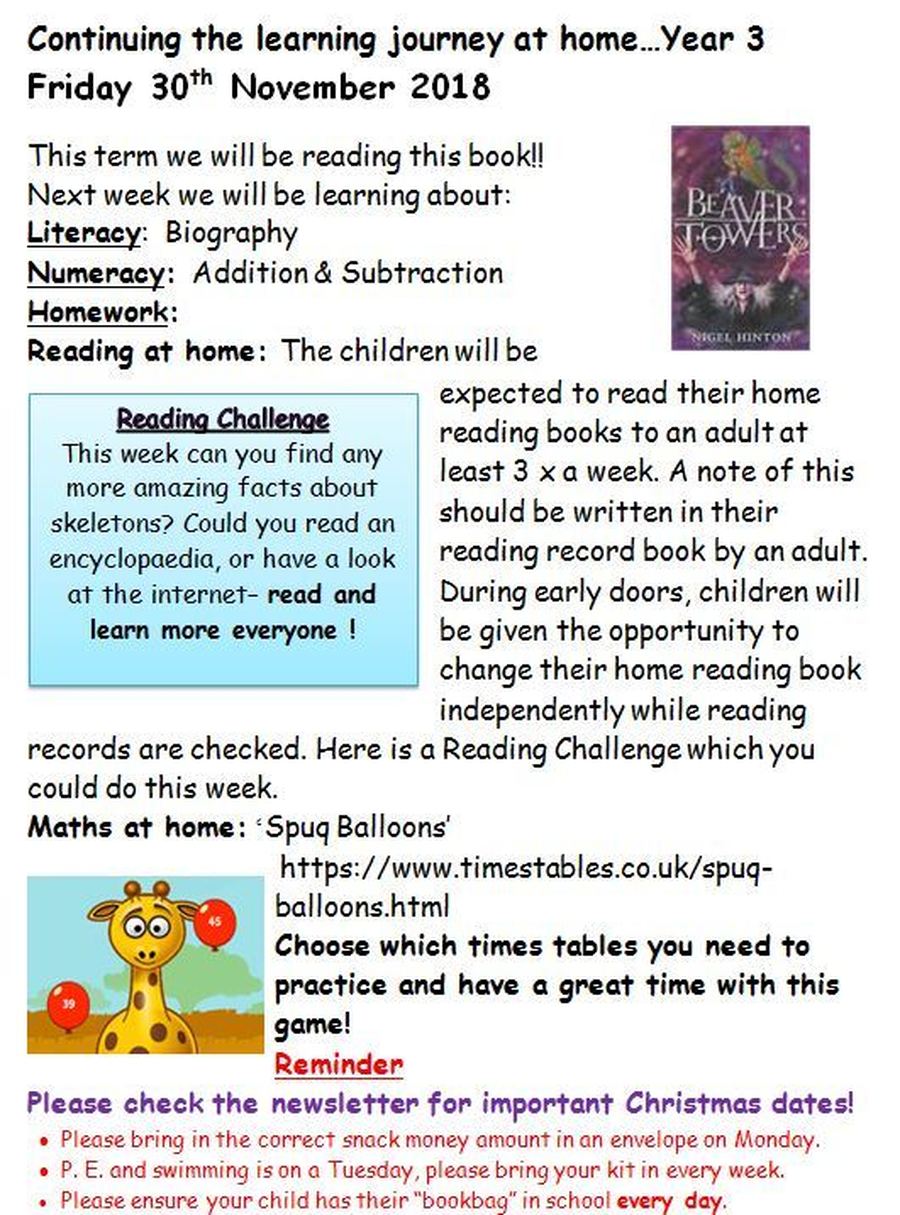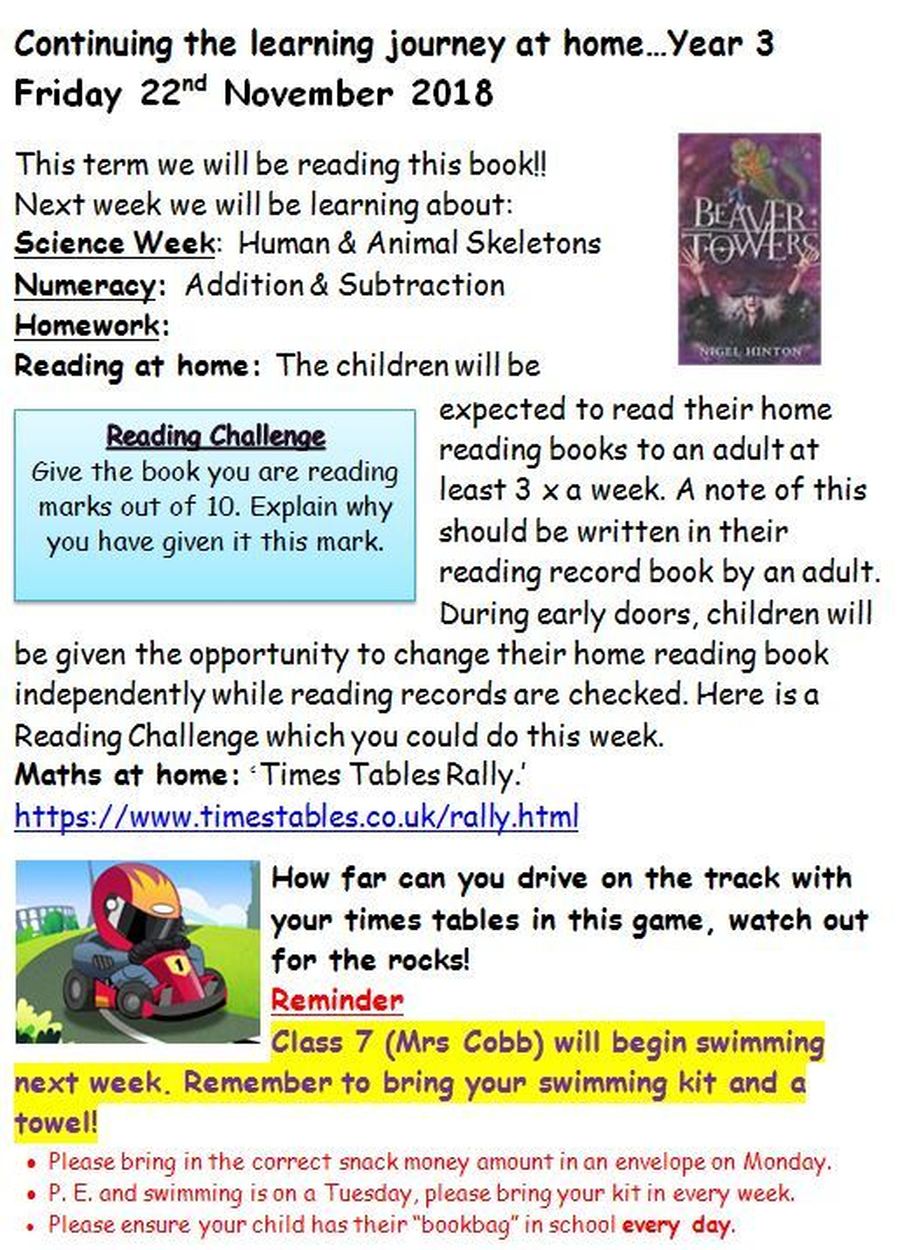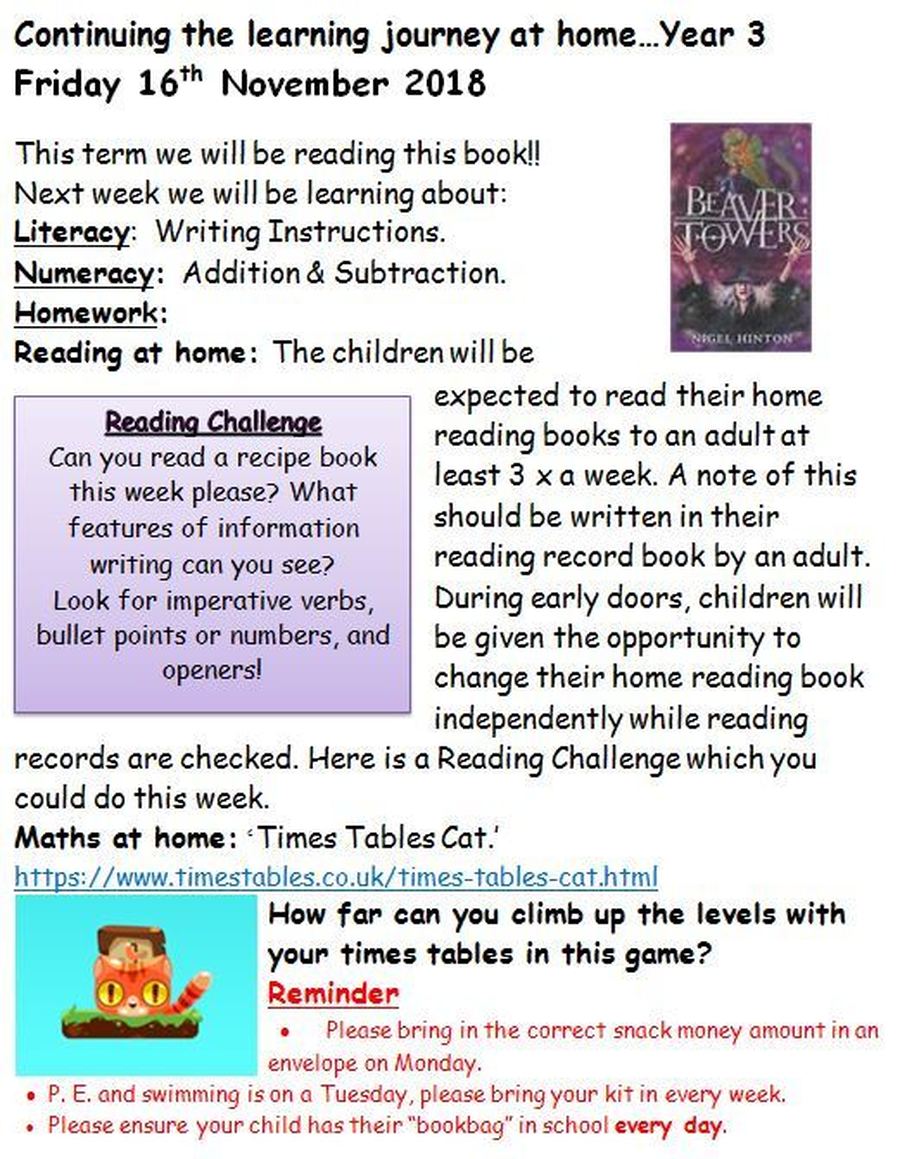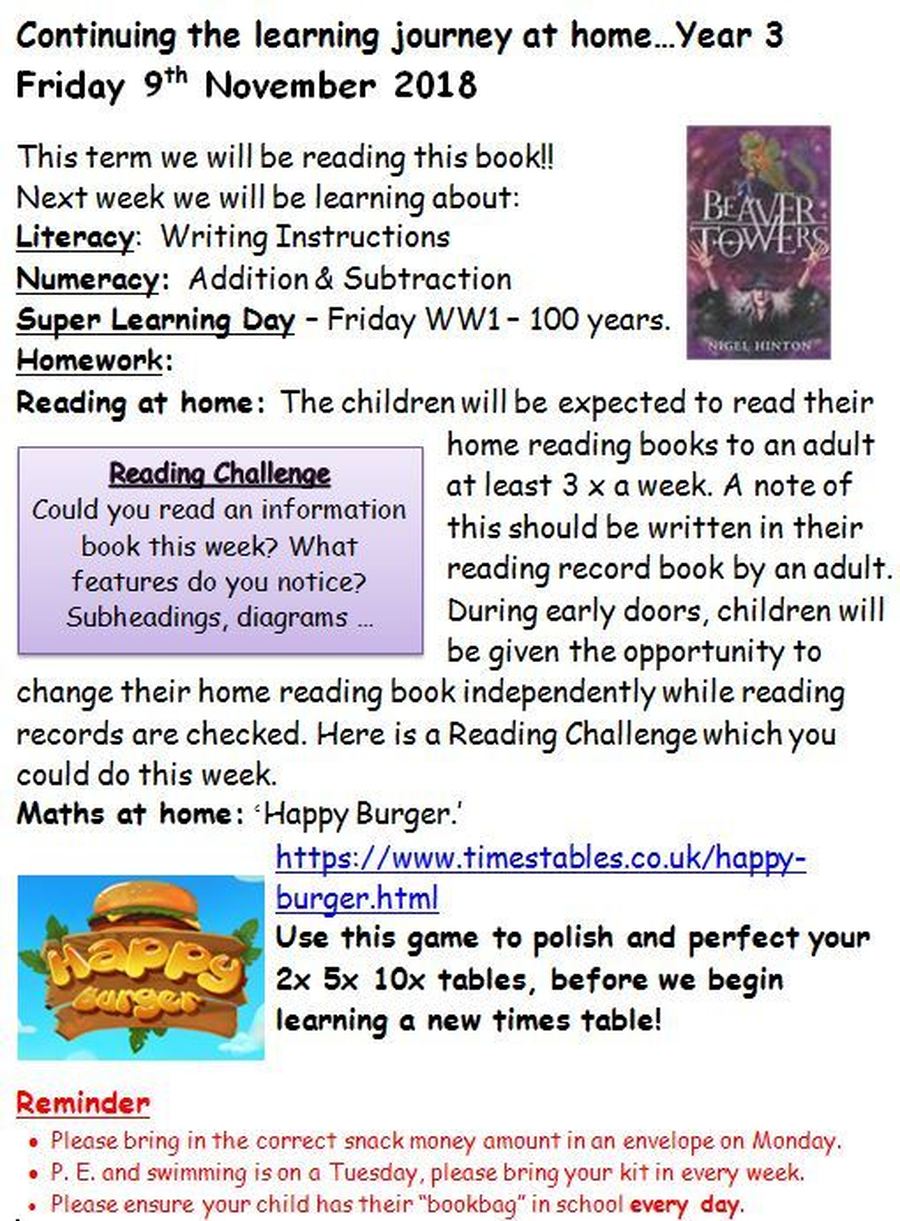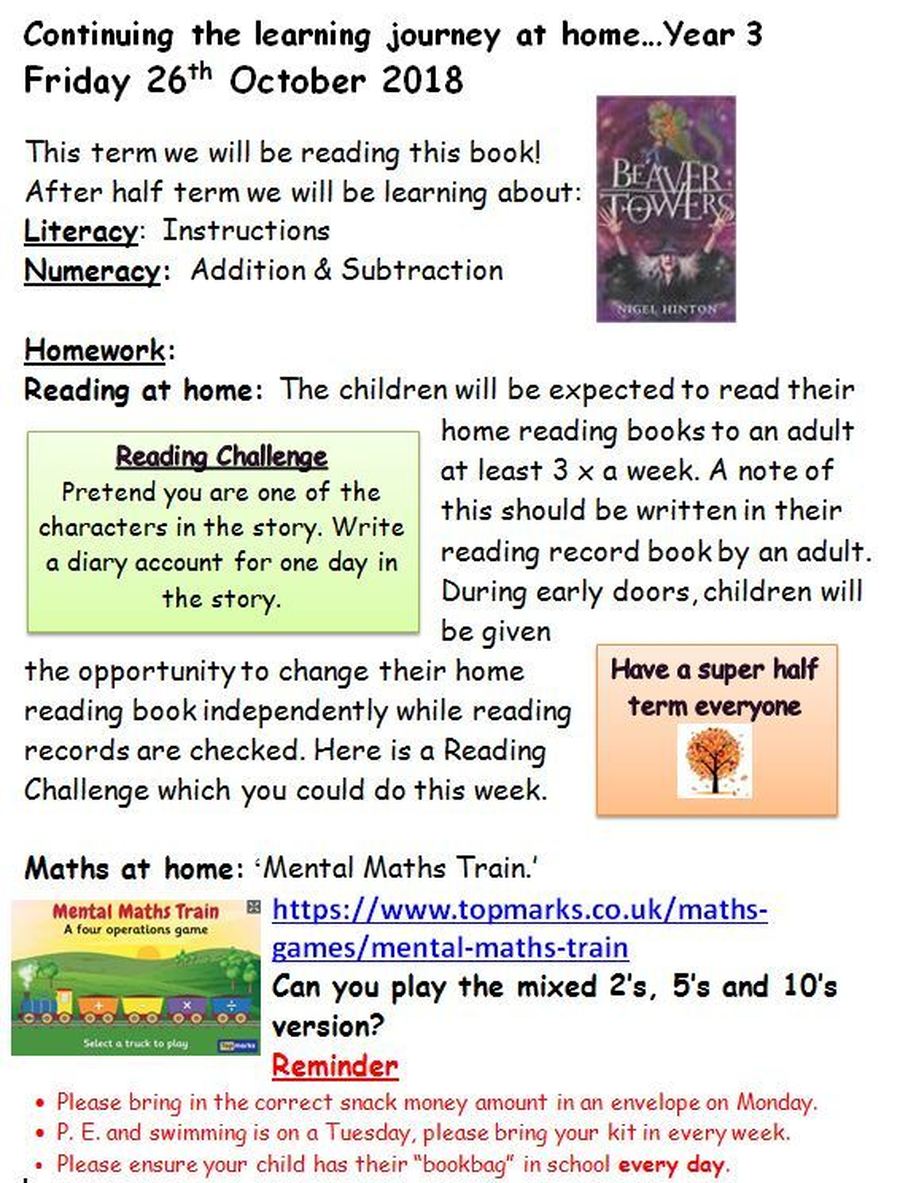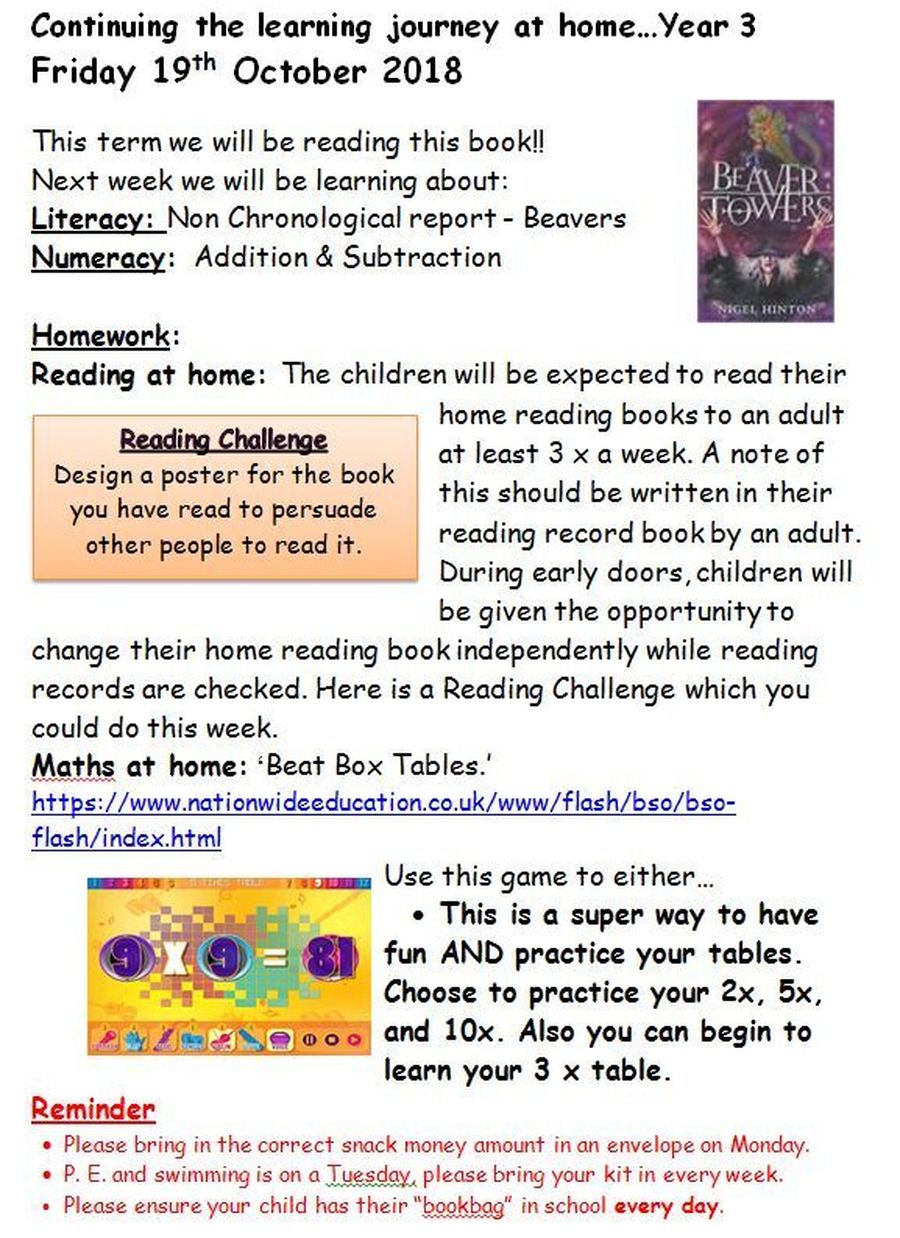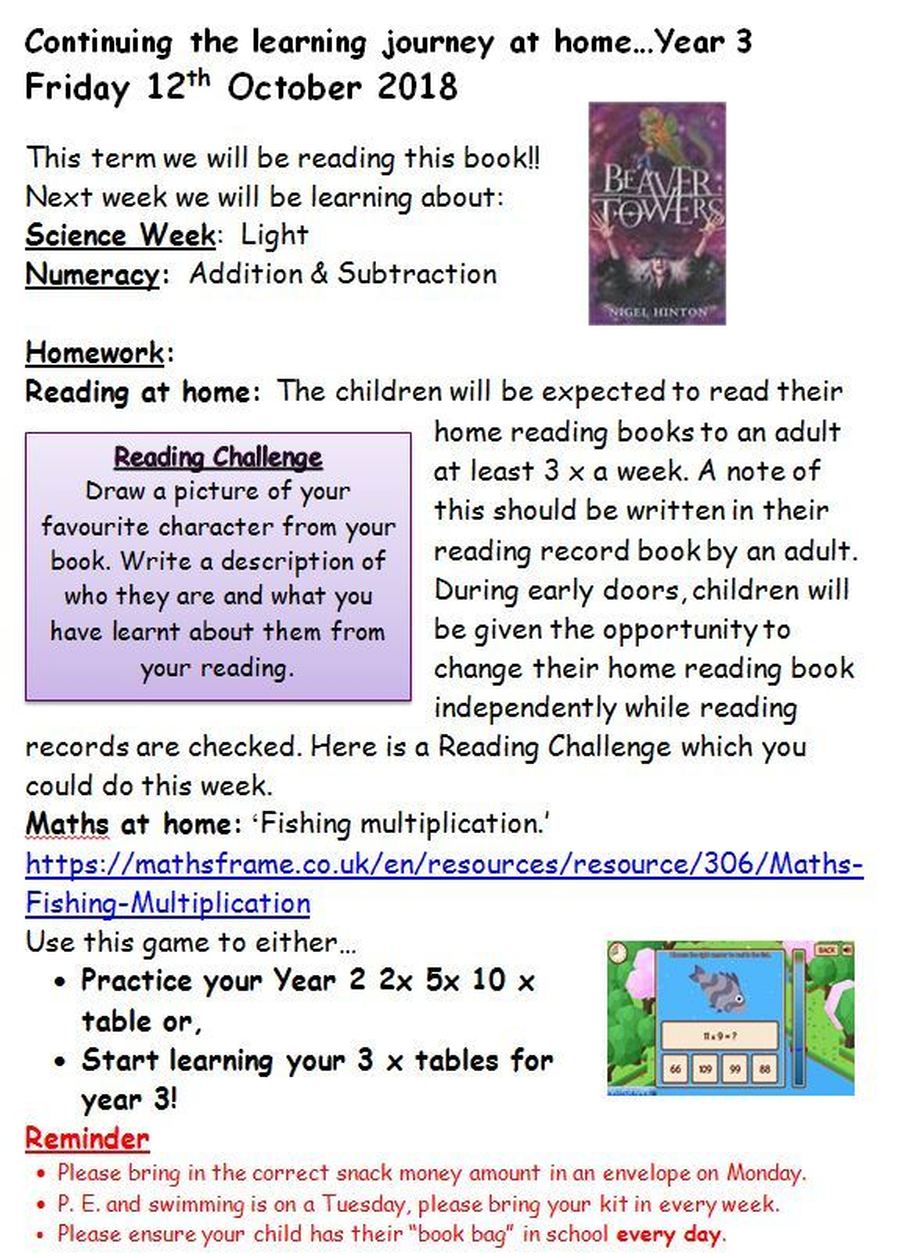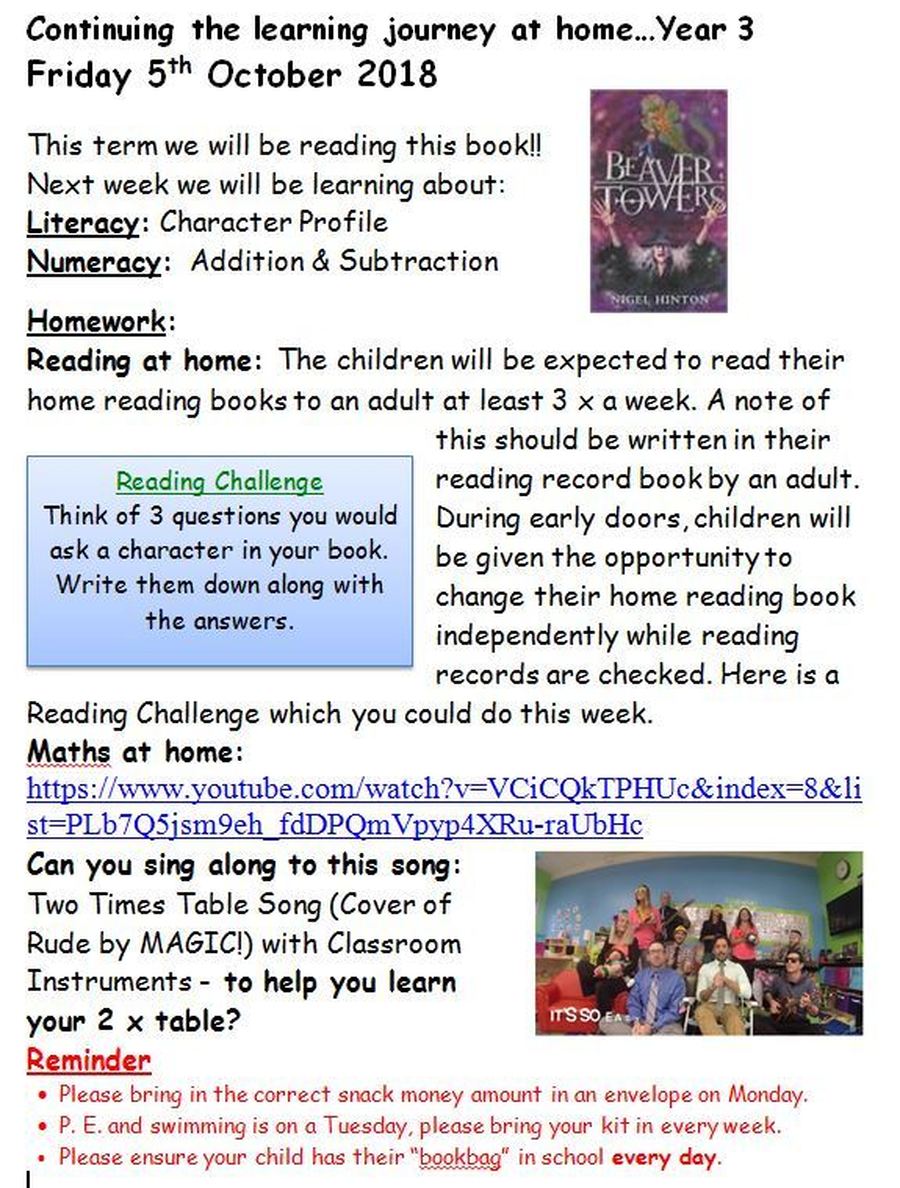 Dear Parents/ Carers
Welcome to Year 3 and Key Stage 2! The children have had a marvellous year in Year 2 and we hope they will continue to work hard and exceed their targets this year. We are really looking forward to working with the children and they have already started to settle into the Year 3 routine.
As the children have moved into a new year group, there are new staff also.
Class 7 - Ms Cobb
Class 8 - Miss Mann
There are also the teaching assistants linked to the team who will be taking interventions and working with all classes during the week: Mrs Bishop and Miss Tara.
Can we remind parents/carers that Year 3 starts at 8.50am and finishes at 3.15pm. Classroom doors open at 8.50 am for children to start Early Doors activities and will close at 9.05am. If your child arrives after this time they will need to sign in at the main entrance of the school.
As the children are older, we want to encourage them to be independent, so ask that the children are left at the classroom door and carry their own belongings into class. As part of our Safeguarding and Health & Safety policy, we politely ask that parents and carers wait outside the classroom when the doors are open. If you wish to speak to the class teacher, we ask that you speak to us after school, or if it is urgent/important, wait at the door. We thank you for this in advance.
Snack
If you wish for your child to receive a snack during morning break (fruit juice and toast) they will need to bring £1.75 a week in a named envelop on Monday morning to receive snack for the week unfortunately if they do not bring it on a Monday morning they will not be able to have snack that week. The kitchen staff, not teaching staff, kindly organise this for the children and so must be paid on the Monday.
Dinners
School dinners are also available and cost £2.10 a day or £10.50 a week. Please see the school office if your child qualifies for free school meals where the staff will be happy to help you apply.
CURRICULUM
During the Autumn Term Year 3 will be reading the book 'Beaver Towers' by Nigel Hinton. Through this book the children will be learning about light and animals in science and also learning about the UK in Geography.
PE will take place on a Tuesday. Children will need to wear a full PE kit during the lesson (coloured top, black shorts and appropriate footwear). The colour of the tops should be the colour of the house team your child is in: red for Alexander, yellow for Reade, purple for Royce and green for Gresty. PE tops can be purchased form the main office. The children will also have ICT on a Wednesday, which is taught by Mrs Goodwin.
Year 3 will be taking part in swimming lessons this year, which will take the place of PE for the weeks they attend. Class 8 will begin their swimming lessons on Tuesday 11th September. It is important that when your child attends swimming lessons they have a swimming kit and a towel on that day. A separate letter containing all of the relevant details such as date and requirements will be handed out within the first few weeks of school.
Each week Year 3 will take part in a lesson or RE, taught by Mrs Chadwick, which will focus on Christianity, Islam and Judaism.
HOMEWORK
Any homework, which is sent home, is a very important aspect as it allows children to use skills that they have learnt at school at home. It also shows the children how important you the parent/carer, see their education by continuing they're learning at home. We thank you in advance for taking the time to to do the homework with your child. Please remember we expect the children to do the homework for themselves and use the methods as shown in school.
Reading at home: The children will be expected to read their home reading books to an adult at least 3 times a week and a note of this should be written in their reading record book by an adult. There will be special rewards for children who bring their reading record books in every day and show evidence of reading every night. During early doors, children will be given the opportunity to change their home reading book independently while reading records are checked.
Please do not hesitate to contact us if you have any further questions or concerns throughout the year, please catch us at the end of the school day.
Thank you and we look forward to working with you this year.
Year 3 staff